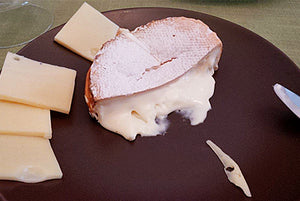 Canadian
Fromagerie Montebello - Adoray - (150g - 175g)
Regular price
$15.27
$0.00
Unit price
per
The Adoray cheese pays tribute to Adorice and Raymond, respectively grandfather and father of Alain Boyer, Montebello's artisan cheesemaker, who was inspired by the respect of the word and the value of the work of both men.
The Adoray, was created to highlight the heritage of the Boyer family throughout generations, and was introduced to the public upon the Fromagerie's 5th anniversary in 2016.
L'Adoray has an orangey rind and an ivory-colored, supple and creamy paste. Strapped with spruce bark, it features lactic, woodsy aromas and slightly spicy flavors of butter, wood and straw.
---