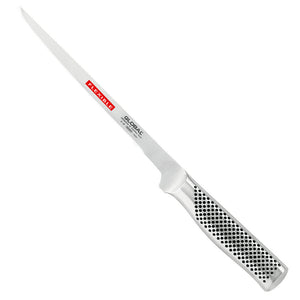 Global
G-30 Fillet Knife - 8"
Regular price
$250.00
$0.00
Unit price
per
A thousand years ago, Japanese swordsmiths perfected the art of swordmaking, in order to produce strong, sharp blades for the Samurai.

Today, following the time-honoured tradition of the Samurai sword, Global continue to produce knives of the finest quality. And, just like the swords of the Samurai, each Global knife lends distinction to the chef who uses it - amateur or professional.
Swedish Fillet Knife features:
Made in Japan from the finest quality stainless steel.
Lightweight and comfortable to hold.
Ice-tempered and hardened, the blade holds a razor-sharp edge longer than any other steel and resists rust, stains and corrosion.
Each knife is carefully weighted to ensure perfect balance in the hand and maximum cutting efficiency.
Seamless construction is hygienic, eliminating risk of food or dirt becoming trapped anywhere on the knife.
Care & Cleaning:
Periodic sharpening is recommended to maintain the ultra-sharp edge of the blade.
Use only with wooden cutting boards.
Hand wash recommended.
---