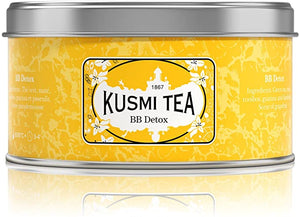 Kusmi Tea
BB Detox Tea Loose Leaf Tea
Regular price
$32.00
$0.00
Unit price
per
Each to their own Detox! BB Detox, a blend of green tea, maté, and grapefruit, has everything going for it: It's gorgeous, it's glorious, it's organic!

 The Detox range by Kusmi is a family saga of fresh, fruity triplets inviting you to take care of yourself.We'll not beat around the (tea) bush: BB Detox is our beautiful best-seller and a truly leading blend. As soon as it hit the shelves, BB Detox became the number-one blend for wellness tea afficionados. And since making it to the top, it has stayed there! Its siblings may be green, but not with envy! In fact, it has managed its newfound fame rather well. Thanks to its gentle character driven by a delicate base of green tea, rooibos, and maté, it can resist the excesses of success and keep its cool (as long as the water is nice and hot).
BB Detox has more than a few tricks in its yellow tin. First is grapefruit, an irresistible, tangy citrus fruit whose fresh zest instantly puts a smile on your face. This is followed by a smattering of guarana seeds that energize the blend with tropical notes and a promise of exotic adventures. And don't forget the daring pinch of mint! Lastly, BB Detox didn't rest on its laurels (or its maté leaves, for that matter), and has become totally organic as well!

125g Tin
---