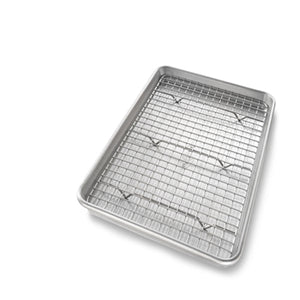 USA Pan
USA Pan - Jelly Roll Pan with cooling rack
Regular price
$41.75
$0.00
Unit price
per
SUMMARY
Item Number: 1605CR
Items Included: One Jelly Roll Pan and One Jelly Roll Bakeable Cooling Rack
Baking Surface Dimensions:
1040JR Jelly Roll Pan 14.25 x 9.375 x 1 inches; 
1601CR Jelly Roll Bakeable Cooling Rack 13.75 x 8.625 x 0.5 inches 

Product Description: The USA Pan Nonstick Bakeable Jelly Roll Cooling Rack set is perfect for home bakers looking to make freshly baked cookies, cakes, and scones that bake evenly, cool uniformly, and come out tasting great. The USA Pan Nonstick Jelly Roll Cooling Rack fits seamlessly inside the USA Pan Nonstick Jelly Roll Pan and provides home bakers with an easy way to add the perfect glaze or finish to your homemade baked goods. Simply place your oven safe cooling rack in the pan, add your items on top of the cooling rack, and you are ready to start baking like a professional. The cooling rack is easy to use and features a steel cross wire design and 6 raised feet, which elevate your cookies, breads, cakes, and scones into a raised position. This raised position promotes uniform cooling and air flow among your baked items. USA Pan is a Bundy Family owned company, based in the Greater Pittsburgh, Pennsylvania area that has been producing high performance bakeware for over 50 years.
Total Pieces:2 Pieces
Material: Bakeable cooling rack is steel, the rest of the bakeware set is made out of Aluminized Steel
Use & Care: Oven safe to 450° F. Hand-wash with warm soapy water to maximize service life. Using nylon, coated, silicone, or wooden utensils is recommended.
Features:
Bakeable cooling rack is oven-safe and dishwasher safe, but hand-washing is recommended.
Jelly Roll Pan (excluding cooling rack) has a unique fluted design that faciliates air circulation and maximizes pan strength to help resist warping
Made with the same standard high-performance features used for bakeware used in commercial bakeries
All items in this bakeware set have a nonstick coating for easy release and quick clean-up. No oil or parchment paper needed!
Cooling rack features a steel cross wire design and 6 raised feet
Limited lifetime warranty
---