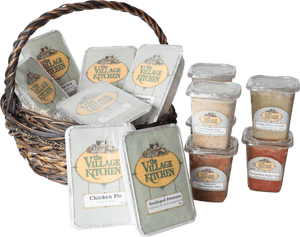 Village Kitchen
Chicken Stock - 900ml
Regular price
$14.00
$0.00
Unit price
per
Our Village Kitchen prepares meals consisting of many different ingredients that everyone will enjoy. Frozen and freshly packaged meals that are healthy and easy to prepare. 
Chicken: Chicken curry, chicken cacciatore (calorie wise!), and chicken breasts available in a variety of sauces – lemon, orange, and porcini mushroom.
Sauces: You do the pasta, we do the sauce. Meaty spaghetti sauce, white and red clam sauce, mushroom sauces, gravies and stocks.
900ml
---