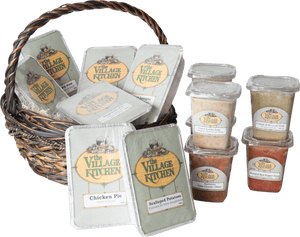 Village Kitchen
Lamb Curry - 800g
Regular price
$39.00
$0.00
Unit price
per
Our Village Kitchen prepares meals consisting of many different ingredients that everyone will enjoy. Frozen and freshly packaged meals that are healthy and easy to prepare. 
Chicken: Chicken curry, chicken cacciatore (calorie wise!), and chicken breasts available in a variety of sauces – lemon, orange, and porcini mushroom.
Beef: Old-fashioned pot roast, beef stroganoff, or our prime rib stew… comfort food supreme!
Casseroles: Sweet potato or turnip puff, creamy mac and cheese (like nothing Mr. Kraft ever imagined), scalloped potatoes, shepherds pie, cabbage rolls, beef ragout, and on and on!
Lasagnas: Rich and cheesy, we make meat, chicken, turkey and veggie lasagna.
Uncommonly Good Soups: From the classics like home-made chicken noodle, cream of carrot, and leek and potato, to our chef's creations of curried apple and squash, pumpkin, vegetarian, curried chicken, and red pepper soup bursting with vitamins and flavors.
Sauces: You do the pasta, we do the sauce. Meaty spaghetti sauce, white and red clam sauce, mushroom sauces, gravies and stocks.
800g
---