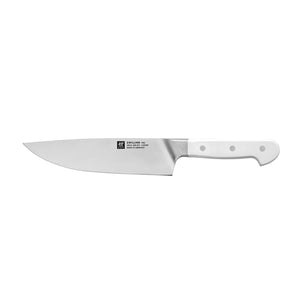 Zwilling J.A. Henckels
Zwilling - Pro Le Blanc - Chef Knife - 8"
Regular price
$209.99
Sale price
$250.00
Unit price
per
The 8-inch chef's knife is a reliable, all-around knife, perfect for most kitchen tasks. Chop herbs, dice onions, and mince garlic with confidence and ease.

ZWILLING Pro, the most user-friendly knife on the market, is now available with elegant matte white handles. ZWILLING Pro Le Blanc boasts a unique curved bolster that acts as an extension of the hand, supporting the professional pinch grip, with thumb and index finger on the blade, for safe cutting and less fatigue. The blade was designed with a broad curve in the front to facilitate the rocking motion of Western cutting, while the straight back is ideal for the Asian chopping motion. The full length of the blade can be used when cutting and can be sharpened from bolster to tip.
Manufactured in Germany
Ergonomic white polymer, triple-rivet handle
Full tang for superb stability
Special formula high carbon NO STAIN steel
Curved bolster to cut with improved precision, safety, and comfort
SIGMAFORGE® knife is forged from a single piece of solid steel
Ice-hardened FRIODUR® blade starts sharper, stays sharper longer, and has superior resilience
Item # 1009859
---