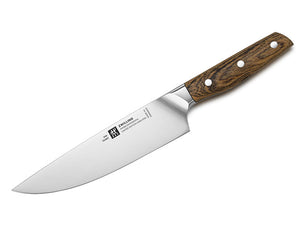 Zwilling J.A. Henckels
Intercontinental Chef Knife - 8"
Regular price
$349.99
Sale price
$500.00
Unit price
per
 ZWILLING is celebrating its 290th anniversary in 2021 and we invite you to celebrate with us – with a unique anniversary knife. The ZWILLING Intercontinental chef's knife is an iconic masterpiece of knife-forging craftsmanship – and what makes this kitchen knife especially exclusive: The knife from Solingen is produced in a limited edition of 2900 pieces. The exclusive kitchen knife with a 20 cm blade length combines craftsmanship with a remarkable aesthetic.
The riveted handle is made of high-quality Bocote wood, which gives the knife its unique appearance. The blade is made from our ZWILLING special formula steel, a flexible yet durable steel used exclusively by ZWILLING.
1731 was the year in which Peter Henckels registered the now world-famous ZWILLING as a trademark with the Cutler's Guild of Solingen. From the world-famous City of Blades, the company began to develop its intercontinental business very early on. The expansion into the USA began in 1883 with the opening of the first store in New York. It was soon followed by openings in metropolises such as Copenhagen, Rotterdam and Paris. Today's presence on all continents and in 150 countries testifies to the entrepreneurial courage and willingness to continuously develop the company from its beginnings to the present day. Although our origins are in Solingen, we are proud to be at home all over the culinary world – wherever people like to cook.
The limited-edition knife bears testimony to this intercontinental culture and our passion for quality and durability.
Exclusive anniversary knife in a limited edition of 2900 pieces
Riveted handle made of high-quality Bocote wood
Stainless ZWILLING special formula steel
Made in Solingen
Item # 33021-201
---